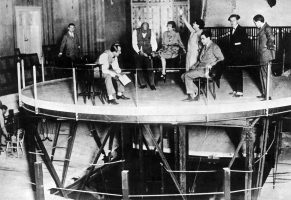 Architekturtheorie_Master SoSe 21 / Radical Austria 5. Friedrich Kiesler / Bart Lootsma
This lecture deals notably with Friedrich Kiesler's involvement with the theatre, the cinema, and storefronts as the basis for his later architectural thinking. It also shows the continuities between Friedrich Kiesler's early involvement with the Viennese Settlement Movement and his ideas on housing.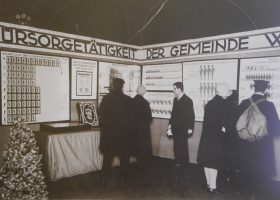 Architekturtheorie_Master SoSe 21 / Radical Austria 4. Otto Neurath: ISOTYPE and City Planning / Bart Lootsma
The development of the International Picture Language ISOTYPE, The Museum for Society and Economy and Otto Neurath's ideas on planning beyond Vienna.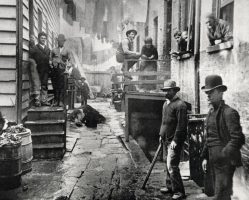 Architekturtheorie_1 SoSe21 / How the Other Half Lives / Bettina Schlorhaufer
How the Other Half Lives In vielen Städten des 19. Jahrhunderts war die unzureichende Wohnungsversorgung ein weit verbreitetes Phänomen. Besonders groß war das Wohnungselend in New York, wo die Bevölkerung bedingt durch die Einwanderungswellen infolge der Großen Depression nach 1873 sprunghaft anstieg. Reformen am Wohnungssektor wurden erst nach Bekanntwerden der bemerkenswerten Fotodokumentationen von Jacob Riis (1849–1914) […]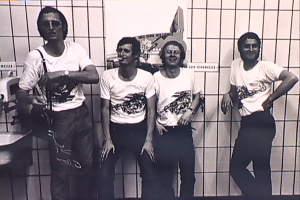 Radical Austria / 22.04.2003 Das Röhren des Jahrhunderts: Zünd-Up – Stirbt noch lange nicht
"World pollution, there's no solution Institution, electrocution Just black or white, rich or poor Them and us, stop the war" Listening to "I'd love to change" by Ten Years After, we see three choppers taking the streets of Vienna. The riders are three members of the architecture group Zünd-Up: Timo Huber, Bertram Mayer, Michael Pühringer, […]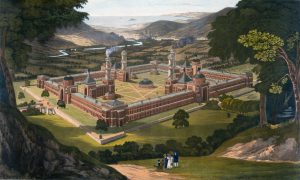 Architekturtheorie_1 SoSe21 / Robert Owen / Bettina Schlorhaufer
Robert Owen – "Universal happiness through universal education": Robert Owen (1771–1885) war wie viele seiner Zeitgenossen davon überzeugt, dass die Industrialisierung die Welt verbessern und die Arbeiter glücklich und frei machen könnte. Bevor Owen ein wohlhabender Textilunternehmer wurde, befasste er sich mit den Funktionsweisen und dem Betrieb von Maschinen, die in Spinnereien und Webereien eingesetzt wurden, […]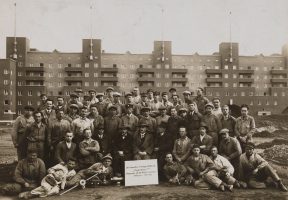 Architekturtheorie_Master SoSe 21 / Radical Austria 3. Otto Neurath and the Settlement Movement 2 / Bart Lootsma
On Otto Neurath's involvement in the Settlement Movement, its development in the nineteen twenties and the origins of Viennese public housing.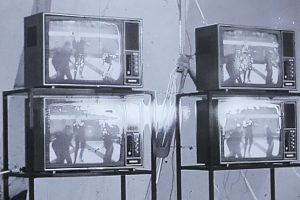 Radical Austria: The Movies. Introduction.
Parallel to the exhibition Radical Austria, Everything is Architecture in the Design Museum Den Bosch, on the Austrian avant-garde in art, fashion, design and architecture in the nineteen sixties and seventies, architecturaltheory.tv presents a selection of films on and by the protagonists of the exhibition, originally made for and broadcasted by the ORF.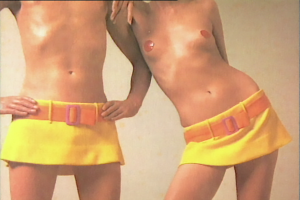 Radical Austria / 02.10.2000 Treffpunkt Kultur: Rudi Gernreich
"Anything is an inspiration", says Rudi Gernreich, following Hollein's catchphrase "everything is architecture". An only child of a modern, left, Jewish, Viennese family befriended with Egon Schiele, an early dancer, a homosexual that loved women and clothes, a partner of philosopher Oreste Pucciani, Gernreich had what it takes to shake the western world in the […]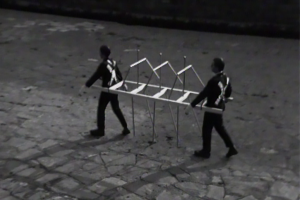 Radical Austria / 16.11.1972 Impulse: Utopia in Architecture (Missing Link)
Angela Hareiter, Otto Kapfinger, and Adolf Krischanitz, also known as Missing Link, curate an episode of the Impulse series showing "utopia in 9 real images". We go through the routine of a dramatic new genderless humanoid that is shaped from its environment into a colorless prototype.